Contribute
RabbitVCS is a free/open-source project, and you are more than welcome to help us make it better! There are many ways you can help:
File Bugs
If you find bugs in RabbitVCS, we need you to file them in our issue tracker. Your problem may have already been reported, so it's a good idea to check to avoid filing a duplicate. Use the search functionality to find out if a bug has already been submitted, if you can't find anything create a new issue.
The GNOME project has a page describing how to write good bug reports.
Suggest New Features
Translate RabbitVCS Into Your Language
RabbitVCS has been translated into dozens of languages, but if the translation for your language doesn't exist or is out of date, you can help bring RabbitVCS to entire new populations simply by translating some text. Learn more about translating.
Write Code
Donate Money
Running the RabbitVCS project does not cost us much money, aside from small amounts for hosting and domain services, but we do put a lot of time into the project. And as they say, time is money. With that said, if you want to show your support for RabbitVCS financially, you may do so by clicking on the below button.
Stackoverflow Ad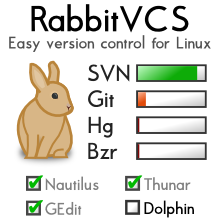 This is the image used for the ad on Stackoverflow. See this topic on Meta for more details. Please don't delete this image without first deleting the ad on SO.